FlotasNet®, the Fleet Management brand of Smart Data Services has presented its new value proposal based on 6 basic principles.
A value proposition is a statement that a company uses to explain how its products and services solve the needs of customers, making a definition of the benefit or value it provides and differentiating its own products and services from competitors.
For FlotasNet® these 6 basic principles of the value proposition, from now on, will be the cornerstones of the brand strategy. Vertical cornerstones are: improvement of productivity and profitability; improvement of safety; improvement of decision making and improvement of service to customers. Transversal cornerstones are: customizable and adaptable solution, accompaniment, service of high value.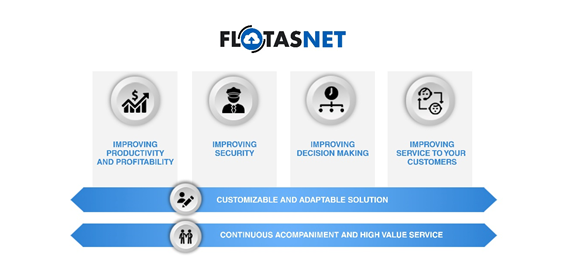 Improving Productivity and Profitability
Effective fuel management
Saving time in processes
Control of driver behaviour to increase productivity
Reduced vehicle operating costs, breakdowns and maintenance
Reduced vehicle downtime
Control of vehicle use, km and driving times
Professional communication with the driver and dispatching of routes
Improved job assignment based on driving status
Improving Security
Reduction of incidents and accidents
Exhaustive and real time monitoring of the vehicle, the trailer, the driver, the cargo and passengers
Assistance in the prevention and management of theft and asset recovery
Ensure the safety of the driver and the load
Control of the use of the vehicle out of hours and zone not authorized
Data Protection and Cybersecurity
Improving Decision Making
Intelligent management of areas and steps by points of interest
Quality, ease to use and integrate with other platforms
To provide the quality information needed to make the right decisions.
External and relevant information such as gas stations, restrictions, traffic status and others
Quick and easy visualization through indicator panels and dashboards, adapted to the different user profiles
Indicators of asset use and worker activity
Real-time or scheduled reports with automatic delivery
Multiple control possibilities in geographical areas.
Improving Service to Your Customers
Increase the reliability of the fleet and service
Real-time cargo vision and traceability and more reliable delivery times
Possibility of making decisions in real time in the event of incidents or delays in transport
Accessible information for your clients´ computer systems
Visibility or sending valuable information to your customers
Regulatory compliance
Customizable and Adaptable Solution
Customization of the solution:
Solution adapted to your specific needs and challenges
Great capacity of personalization, your POI, your alarms, warnings, reports, etc.
Wide variety of platforms, technologies and sensors
Global adaptable solution:
Customizable alarms and warnings according to the activity of each client
Scalable solution: increases functionality as your management needs grow
A single platform, for the management of all brands and types of vehicles
Continuous accompaniment and high value service
Continuous accompaniment throughout the process:
Strategic partner for the development of the business with the objective of continuous improvement
Solvent team with large experience and technical and market knowledge
You will have a specialized manager who will accompany you in the implementation of key actions and digitalization of processes to improve your productivity.
Continuous and remote support and updating of the systems
High value service:
Specialized support throughout the life of the project
We are a leading company in the sector, belonging to a large group with global presence
Personalized customer experience
Working methodology from the experience of 20 years in the sector
Extended customer support